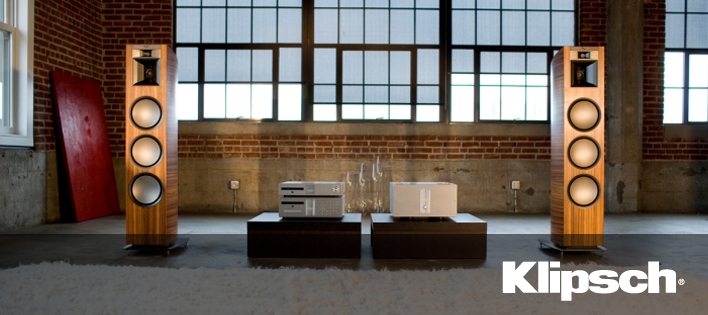 Klipsch
Since 1946, Klipsch has always remained true to its founder's vision of producing no-compromise, premium-quality audio products. As one of the first U.S. loudspeaker companies, Klipsch continues to be the high-performance brand of choice for audiophiles and home theater aficionados around the world.
From humble beginnings in a tin shed in Hope, Arkansas, Klipsch has become a leading global manufacturer of loudspeakers for audio and home theater use. The company was founded by legendary audio engineer Paul W. Klipsch on the promise of a corner, horn-loaded speaker design.

Movie theaters and concert halls had long used horns to reproduce motion picture soundtracks, however those horns, at over nine feet long, were much too large for use in the home. Klipsch's solution was to fold the horn back onto itself and place the speaker cabinet in a corner, making the walls of the room an extension of the horn. An unquestionable success, the Klipschorn®, patented in 1945, is still considered by many to be the finest loudspeaker ever made and is the only speaker in the world that has been in continuous production for over 60 years.

While the designs have changed along the way, the foundation of Klipsch's work — horn-loaded technology — has remained constant. The hallmark of Klipsch loudspeakers, horns offer high efficiency, low distortion, controlled directivity and flat frequency response, allowing them to more closely reproduce the quality and tonal characteristics of live sound.

His love of music and desire to hear an "orchestra" in his home is what drew Paul Klipsch to the task of refining the design principles that changed an industry. He has said, "Audio was a hobby and then a profession, but I still consider myself an amateur in that an amateur is one who practices his art for love." Up to the age of 96, Paul Klipsch played an active role in the company he and his wife Valerie sold to a cousin and Indianapolis businessman Fred Klipsch and his wife Judy in 1989. Paul W. Klipsch passed away on May 5, 2002. He was 98 years old.

Since the change in ownership, Klipsch has grown significantly, selling hundreds of premium sound solutions—from tiny headphones to massive professional cinema speakers—in order to meet the needs of every lifestyle, application and budget. And, even though the company has changed considerably since those early days, Klipsch still looks to the future with an eye to the past. The heritage and drive for perfection of Paul Klipsch's early work is the standard by which Klipsch produces loudspeakers today and always.